Description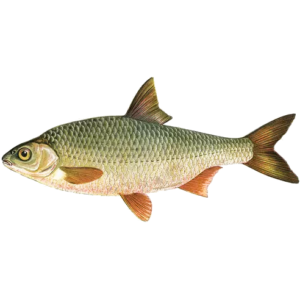 The Rutilus rutilus  (common roach) eDNA detection kit is able to detect the fish species Rutilus rutilus in all water samples worldwide and contains enough materials for 20 samples to be analysed in 8 fold (200 qPCR tests). The kit is based on the fast, sensitive, and proven primers/probe qPCR technique. The kit contains primers and a probe for detecting a highly specific sequence present on the mitochondrial DNA of the species Rutilus rutilus.
Detection as a service
We offer the detection of Rutilus rutilus also as a service. See our eDNA service website (in Dutch) or contact us for more information about sampling, sending,  and pricing.
Species information

The roach (Rutilus rutilus), also known as the common roach, is a fresh and brackish water fish of the family Cyprinidae, native to most of Europe and western Asia.
The roach is a small fish, often reaching no more than about 35 centimetres (14 in); maximum length is 45–50 cm. The body has a bluish silvery colour and becomes white at the belly. The fins are red. The number of scales along the lateral line is 39–48. The dorsal and anal fins have 12–14 rays. Young specimens have a slender build; older specimens acquire a higher and broader body shape. The roach can often be recognized by the big red spot in the iris above and beside the pupil. Colours of the eye and fins can be very pale, however, in some environments.
The common roach is found throughout Europe except for the area around the Mediterranean, and its distribution reaches eastward into Siberia. Eastern Europe and Asia have several subspecies, some with an oceangoing lifecycle living around the Caspian and Black Seas. Around the Mediterranean and in northwestern part of Spain and Portugal, several closely related species occur with no overlap in their distribution.
It was introduced in Australia in the Murray River and coastal drainages of southern New South Wales and Victoria from Europe during the 1860s and 1880s for sport purposes. (source: wikipedia)
In English: Common roach
In German: Rotauge
In French: Gardon
In Dutch: Blankvoorn
Primer design
The primers and probe are specially designed to be used with eDNA samples and have the following properties:
Highest possible sensitivity (<10 DNA copies per reaction). Environmental water samples contain normally very low amounts of target DNA.
Strong fluorescence signal with low background noise. Isolated environmental samples contain residues of naturally occurring auto fluoresce substances that will interfere with the measurements. A strong fluorescence signal from the analyses is required for these kind of samples.
100% specificity. Isolated DNA from environmental samples contains billions of DNA fragments from bacteria, protozoa, plants, animals, etc.
The kit is developed and optimized to be used on eDNA isolates purified using the eDNA isolation kit (#SYL002) from Sylphium molecular ecology.
Other eDNA isolation methods/kits can be used as well. Please contact us to get more information how to use the obtained isolates from other methods/kits to get reliable results with the Rutilus rutilus eDNA detection kit.
Kit contents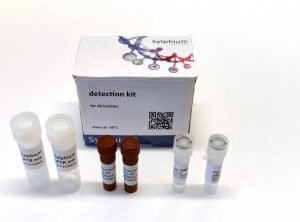 The kit contains materials for an 8 fold analyses on 20 samples including all necessary controls.
Positive control (Cloned Rutilus rutilus DNA)
2x Sylphium qPCR mix (100 reactions) without primers and probes
2x Primer/probe mix (100 reactions) for detection of Rutilus rutilus (FAM dye)
1x Taq DNA polymerase (200 reactions)
Protocol and primer/probe validation report
Downloads